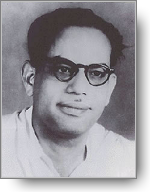 The Electronic Edition of the Works of P.R. Sarkar
Version 9
Overview:
• Welcome to EE9
• New content and features
• Download and try
Downloads:
• Windows
• Mac
• Android
• iPhone (Coming later)
Buying EE9:
• Buy EE9 now
• Become an EE9 distributor
Support:
• Frequently Asked Questions
Welcome to EE9
Eledit 9, the latest Electronic Edition of the Works of P.R. Sarkar, is an application that you can download and install on your computer or mobile phone.
Windows, Mac and Android versions are already available. An iPhone versions will become available in the near future.
New content and features
EE9 now contains almost 1500 discourses in 142 books, including the recent titles Yoga Sa'dhana', An Outline of Prout, Who Is the Real Guru, and Subha's'ita Sam'graha Part 5.
A few more books are currently being prepared for inclusion, and will be automatically downloaded into EE9 when they will become available.
Another new feature of EE9 is a searchable Sanskrit dictionary. It contains over 140,000 words and uses Roman Samskrta for display and search.
EE9 also contains a new search function capable of word, phrase, wildcard and proximity search. You can also save searches for later quick access to the list of matching results.
Download and try
You can download a free version of EE9 and see for yourself how everything works.
The free version contains a sampling of books and discourses, while the full version contains 142 books and almost 1500 discourses. Books and articles not included in the free version are listed but greyed out.
Here are links for the Windows, Mac and Android versions:
Windows
Version: 9.0.6.145
Download the installer file above ("electronic_edition_setup.exe") on your Windows machine and run it.
If Windows issues a warning, e.g. "Windows prevented an unknown app from running", click on "More Info" and then "[Run Anyway]".
After the installation you will find "Electronic Edition" listed among the programs in Windows' Start menu.
How to uninstall EE9 from a Windows machine
If the EE9 program is running, close it.
Open Windows' control panel.
Click on Add/Remove programs.
Locate "Electronic Edition 9" in the list of installed programs, and click on "Uninstall".
To manually remove the remaining files, find the folder "C:\ProgramData\Electronic Edition 9" and delete it.
MacOS
Version: 9.0.6.81
Download the DMG file from the above link to your Mac.
If a previous version is already installed, stop it and remove it from Applications. (Right click on it, and then "move to trash")
Double-click on the downloaded DMG file to open it ("mount" it).
In the mounted DMG, grab the "Electronic Edition" icon with the mouse and drop it over "Applications". This will install EE9 on your machine.
Because this software is not distributed by Apple, you will get some warning during installation.
In particular, the first time you run it, you may have to control-click the EE9 icon (instead of a regular click) and then give your permission to run the app.
To complete the installation, you may also have to open Apple's menu, then "Security and Privacy", then give your permission to install the app.
How to uninstall EE from a Mac machine
Close EE program if it's running.
Open Applications in Finder.
Grab the "Electronic Edition" icon with the mouse and drop it over the trash bin.
Android
Version: 9.0.6.11
Download the APK file from the link above to your Android device.
On your Android device, locate the APK file in the Download folder(*) and tap it to install it.
Your device will request your permission to install. Approve the installation to continue. (Your device may also warn you that this app is not from Google's official Play Store. Give your approval to continue.)
Please note that this app is completely safe and doesn't require any additional permissions: no access to the phone, sms, files, camera, etc.

(*) Android devices have an app usually named "File manager" or "Files" that you can use to browse the folders and files on your device. Downloaded files are usually saved into a folder named "Download". If your device has a memory expansion card, you may have to look there, too.
iPhone
Status: under development
The iPhone version is under development and it will appear in Apple's App Store when available.
---
Buy EE9 now
The Electronic Edition version 9 costs 75 USD / 65 Euro for Windows, MacOS and Android. We want P.R. Sarkar's writings to be accessible in regions of the world where people may not be able to afford $75. If you feel you speak for such a region, contact support@eledit.net for a possible discount.
A single purchase allows you to install the full EE9 on multiple devices running Windows, MacOS, or Android.
The iPhone version will work separately, see below for details.
EE9 may be bought online or from Acaryas and Ananda Marga units all over the world. (See below if you want to become an EE9 distributor)
You can also buy EE9 via PayPal by sending the payment to support@eledit.net
After the purchase you get a license code that allows you to install the full EE9 dataset on all your computers (Windows or Mac) and Android phones and tablets.
We recommend that you first download the free trial version, check that everything works well on your device, and then buy your EE9 license.
New books and additional material will be added to EE9 in the coming months and years. You will be able to download the latest data with a single click at no extra cost.
Even after changing phone or computer, your EE9 license will always allow you to install the latest version of EE9 on your new devices (Windows, MacOS, Android) at no extra cost.
If you need technical help or if you have any questions, contact support@eledit.net
iPhone version
An iPhone version is under development, and it will become available in the near future.
Because of restrictions imposed by the iPhone's Apple company, we will not be able to include the iPhone version in the same bundle described above that supports Windows, MacOS and Android devices with a single license. Instead, we will have to sell the iPhone app separately, and only through the official Apple iOS App Store.
In other words, there will be two completely separate EE9 products: one valid for Windows, MacOS, and Android, and another valid only for the iPhone. A license for one will not work on the other.
At present a price has not been set for the iPhone version, but it will probably be less than the above price for the multi-platform license.
The system for receiving newly added books later on, at no extra cost, will be the same on the iPhone as on the other platforms.
Become an EE9 distributor
You can become an EE9 distributor and sell EE9 licenses in Ananda Marga units, during retreats, at lectures and public events, etc.
For more information contact support@eledit.net
Frequently Asked Questions
How do I register my copy with my license number?
On Android, there's a blue box in the home page of the app, copy and paste the license number there.
On macOS and Windows, open the first tab (EE9 Home) at the first page (Electronic Edition 9), and then copy and paste your license number in the blue box, as in this screenshot: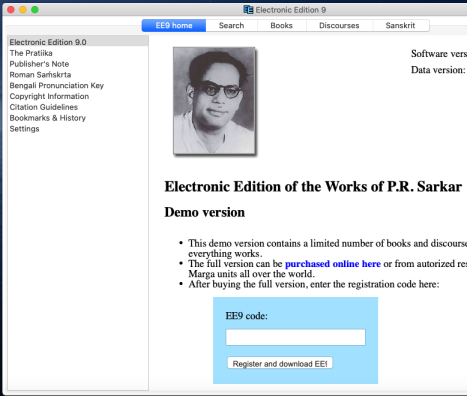 ---
If you have questions or require technical help contact support@eledit.net
© Copyright 2021 eledit.net All Rights Reserved